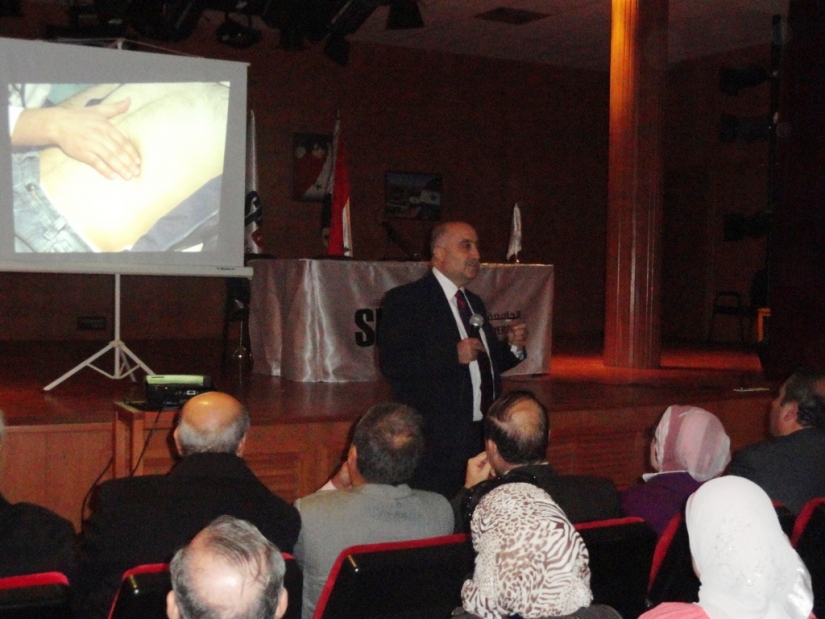 The Faculty of Medicine, in coordination with the Student Union of the Syrian Private University, held a welcome meeting for new students for the academic year 2014/2015 on 22/11/2014.

The meeting started with a speech by the Dean of the Faculty, Prof. Nizar Ibrahim, during which he welcomed the students and their families. He also welcomed the presence of the university president and his two vice presidents for this meeting and congratulated the new students on their choice of the medical school at the Syrian Private University for their interest in their students and the educational process both theoretical and practical. Dr. Nizar Ibrahim stressed that the Faculty of Medicine at the Syrian Private University has distinguished itself from the regular clinical training courses that its students regularly organize to strengthen their clinical training skills and enable them to pass the standardized medical exam. The results of these courses and their interest were reflected in the results of the students, where the success rate achieved by 95% in the clinical interviews and 60% of the success rate in the national exam, as noted by the Dean of scientific research that began publishing in international journals on behalf of the Syrian University And are prepared by undergraduate students in joint efforts with their professors. This is an important indicator of the scientific and educational level that characterizes the college.

Dr. Abdul Razzaq Sheikh Issa welcomed the students and their families and affirmed that their admission to the Faculty of Medicine was based on the University's strategy of selecting a distinguished group of students who achieved high levels in secondary school and would like to study medicine. From the principle of rewarding opportunities and also from the desire of the university to prepare distinguished cadres to be professional doctors in the practice of their profession in the future, "and thus become true ambassadors of their university locally" and globally.

Dr. Abdul Razzaq Sheikh Issa called on the students to be fully committed to attending the lectures and encouraged them to communicate with their professors. He expressed his readiness with the Deanship of the College and all the administrative and administrative staff at the college to answer all the students' questions and overcome any obstacles that may obstruct their path towards a promising future. And bright waiting for them .. Wishing success for all.

A summary of the college and its departments was presented by Prof. Nizar Ibrahim and the students were introduced to the department heads and administrators.

The students' union concluded the meeting with multiple paragraphs of playing, singing and acting.
Attachement Files