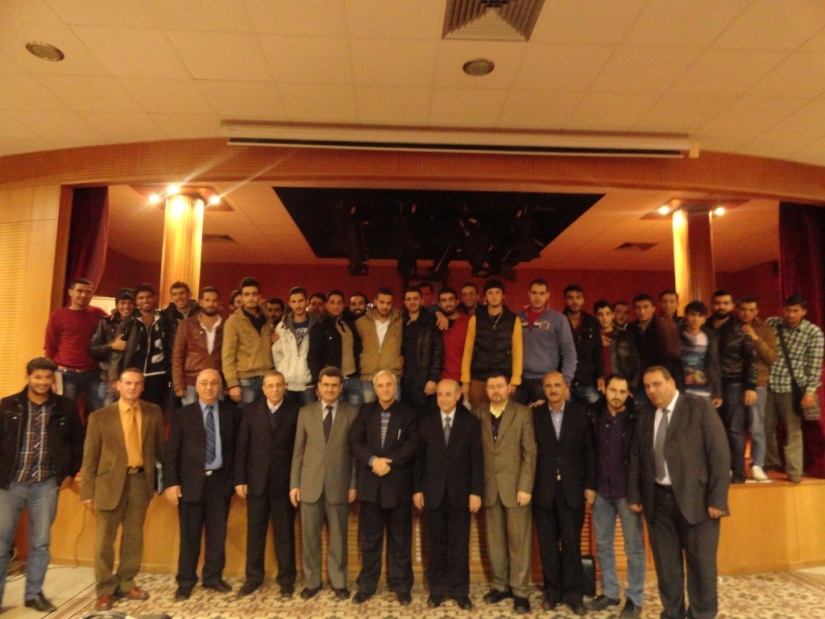 The Deanship of Petroleum Engineering College invited its students to meet in the presence of the President of the University, Prof. Abdel Razzaq Sheikh Issa and his deputies, Dr. Marwan El-Hajji and Prof. Adel Nofal, on Sunday, 23/12/2014. The meeting included a welcome for new students and their families, as well as "Honoring the outstanding students in the second semester of the 2013-2014 academic year.

Dr. Amer Ghubra, Dean of the College, welcomed the new students and congratulated them on their selection of this specialty which is unique to the Syrian University for private universities. He also congratulated the outstanding students at all levels of study in the 2013-2014 academic year and wished success to all. the students .

This was followed by a speech by the President of the University, Prof. Abdul Razzaq Sheikh Issa, where he welcomed the new students and encouraged them to adhere to the day and daily lectures and to make additional individual efforts of the students to develop their expertise and knowledge in their field of expertise, To be able to excel in the fields of work in the future, "expressing" the readiness of the Presidency of the University to support the Faculty with all that it can achieve achievements at all levels and reach the desired goal is to distinguish the Syrian University graduate.

The students then asked some questions and asked some questions that would help them in their academic achievement. All their interventions were listened to by the Deanship of the College and the Presidency of the University, who responded to all the inquiries and promised to overcome any obstacles that may be encountered at the university level.

In conclusion, "Outstanding students were honored for the 2013-2014 year and the students were photographed with the teachers.
Attachement Files