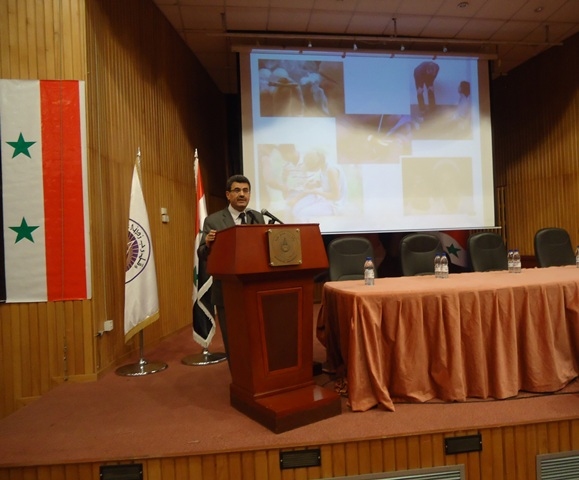 Syrian Private University participated in the scientific symposium held by Damascus University on "Drugs and their Damages" on Thursday 30/04/2015 on the runway of the Faculty of Civil Engineering in the presence of the President of Damascus University, the President of the Syrian Private University and a large number of important personalities in the community,

The participation of the Syrian Private University came through a valuable lecture by Prof. Dr. Abdul Razzaq Sheikh Issa, in which he talked about the role of universities in reducing the dangers of drugs and its spread. He stressed the importance of raising awareness among university students about the dangers of drugs and activating the role of the media in the university. In addition to the importance of investing students' time in what is beneficial through the establishment of scientific, cultural, artistic and social activities. A good example of this is the work of the Syrian Private University.

The seminar program also included several lectures, including:

A lecture by Dr. Mohamed Tawfiq al-Bouti entitled "Drugs in the balance of Islamic law", a lecture by Dr. Aboud Al-Sarraj entitled "The position of the Syrian legislation on the crimes of drugs and the methods of combating them" and a lecture by the teacher's teacher Dr. Ahmed Mounadili entitled "The pathological effects of drugs on the body and other lectures .
Attachement Files