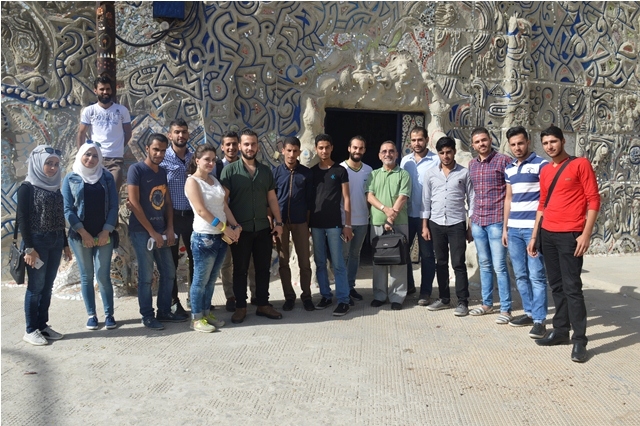 Scientific trip for the faculty of petroleum engineering students to the scholastic museum for sciences
The faculty of petroleum engineering initiated its activities of the academic year 2016-2017by a scientific trip students to the scholastic museum for sciences in Damascus under the supervision of the faculty educational staff M.Sc. Youssef Radwan.
The director of the museum received the students and delivered an explanation associated by video show on the museum sections and their contents. The students were subdivided into two group to better viewing and comprehending the sections' contents.
The museum has different sections. One of which has a marvelous collection of mummified animals and games from Africa and Asia. Another one has a huge collection of different educational instruments, illustrating items, old physical inventions and experiments tools used in old Damascus schools' laboratories. The section of great importance to the students and a long stop was that rocks, minerals and fossils section. The section encompasses a huge number of rocks sampled by different Syrian scientists from all over Syria and telling its geologic history and the most recent theories of its tectonic evolution. M.Sc.Radwan answered students inquiries relevant to different things attracted their attention and interests.
At the end the museum director acquainted the students impressions and the scientific benefit they got through the museum visit and welcomed the university to steadily visit the museum for spreading the scientific benefits.
The Syrian PrivateUniversity thanks the direction of the scholastic museum for sciences for receiving its students and wishes them all success and luck in their message in presenting the geologic history of Syria to its young generations.