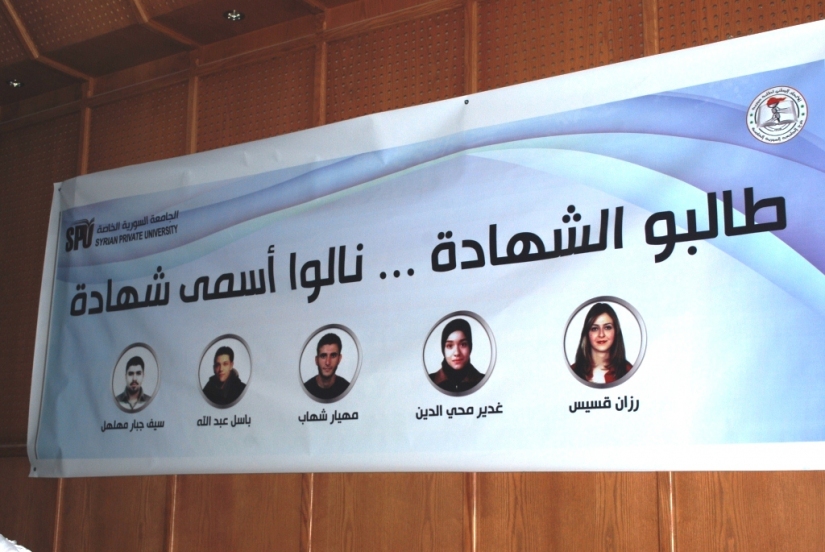 Under the title "They demanded the certificate .. Obtained the highest certificate .." The Syrian Private University in cooperation with the National Union of Syrian students, the Syrian University special branch, the martyrs of the University to a ceremony honored on Sunday, 28/12/2014.

The event began with a minute of silence for the souls of the martyrs and was followed by the Syrian Arab anthem.

The program included a speech by the student union, delivered by Waseem Gharazuddin, the head of the special Syrian university branch of the National Union of Syrian Students, as well as a speech by the students of the martyrs, by the appearance of Jadaan from the Faculty of Medicine and by the director of Shifa project for the families of the martyrs Dr. Bahjat Akroush.

This was followed by the speech of the university president, Prof. Dr. Abdul Razzaq Sheikh Issa, where he talked about the greatness of the certificate that the university students received, which is the highest and highest and higher than the certificate they were aspiring to obtain from their university.

After that, the comrades of the martyrs presented a very silent silent play. In conclusion, the martyrs were honored by presenting the roses as an expression of the love of the Syrian private university family for their martyrs.

Also presented were shields bearing the title of the event and the name of the martyr, as well as health insurance cards provided by the Shifa project for the martyrs' families. And most importantly the honorary certificates provided by the University to its students martyrs under the decision of the Council of the League in its ninth session held on 17/12/2014 where honorary certificates were given to them each according to the specialization that was taught at the university.

The family of the Syrian Private University, and through this event, wanted to say to the martyrs of the University we love you and will not forget you will remain in our hearts a shining light on our way to victory achieved.

Martyrs of the Syrian Private University .. As we go and win ..
Photo Album
Attachement Files