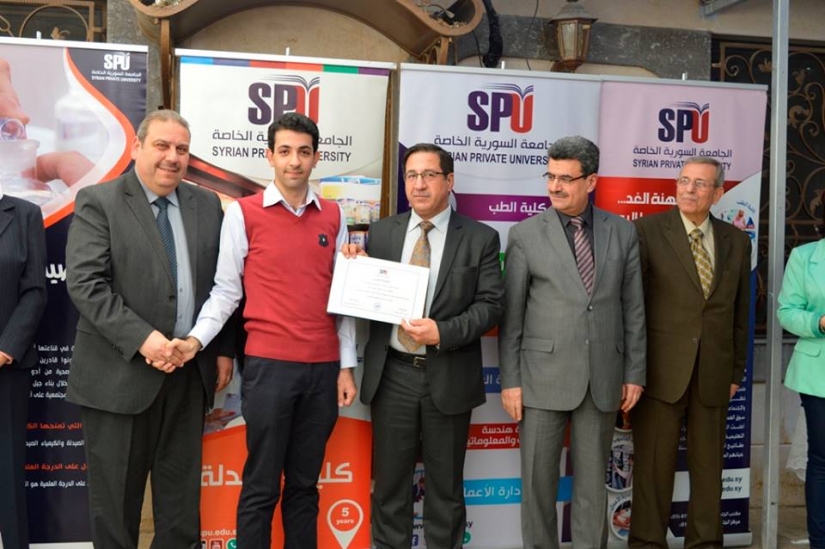 The Faculty of Pharmacy held a celebration to honor the outstanding students in the first semester of the academic year 2015-2016 in the presence of the President of the University, Prof. Dr. Abdul Razzaq Sheikh Issa and his deputies, Dr. Mohamed Riad Al-Ghazi, Dr. Marwan Al-Hajji and a number of professors, students and their families. AHC representative sponsor of some events at the College of Pharmacy.

The celebration was opened with a minute of silence on the souls of the martyrs and then the Syrian Arab anthem. And included a speech to the administrative body of the National Union of Syrian Students and a speech to the Professor Dean of the College and a speech to Professor Dr. President of the University and to provide certificates of appreciation to the outstanding and wish them and their colleagues the time of success and excellence.

A certificate of thanks and appreciation was also given to the distinguished employee and academic advisors who were distinguished in their role in helping students to register in the second semester 2015-2016

The vocational training office was launched at the Faculty of Pharmacy and the members of the Office presented a detailed explanation of its objectives, vision and importance to the students and graduates of the Faculty of Pharmacy at the Syrian Private University.

In conclusion, the posters were evaluated in the scientific poster competition and the awards were presented to the participants by AHC.
Attachement Files